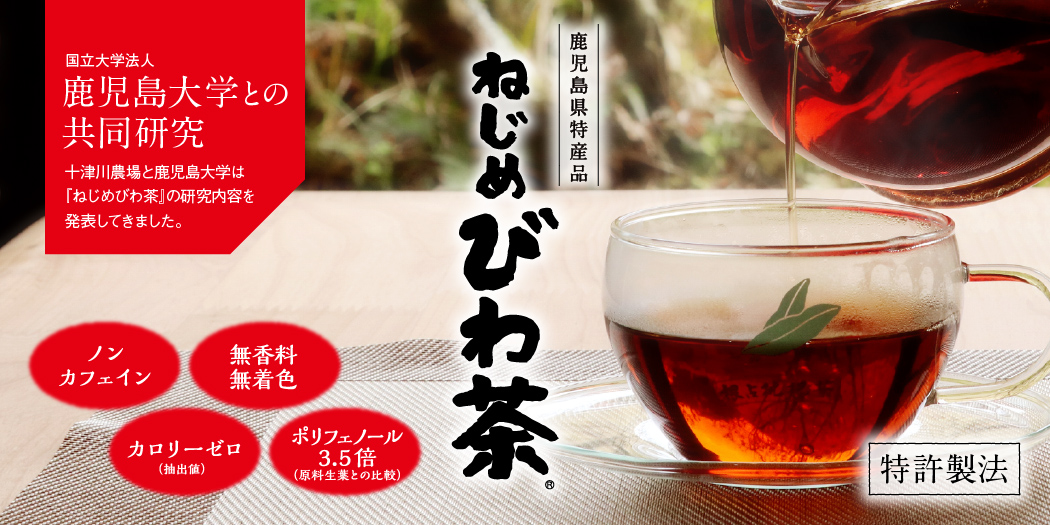 Totsukawa Farm was founded in 1999 with the hope of bringing to market healthy tea products.
Drinking tea is an integral part of the diet and daily life of Japanese people.
Nejime Biwacha is a healthy tea everyone from young children to the elderly can drink as much as they like at any time.
We do the best we can to make sure our products are safe and secure so that everyone can drink it like a pure, healthy water.
Nejime is located in Minamiosumi Town,
Kagoshima Prefecture,
the southernmost prefecture of mainland Japan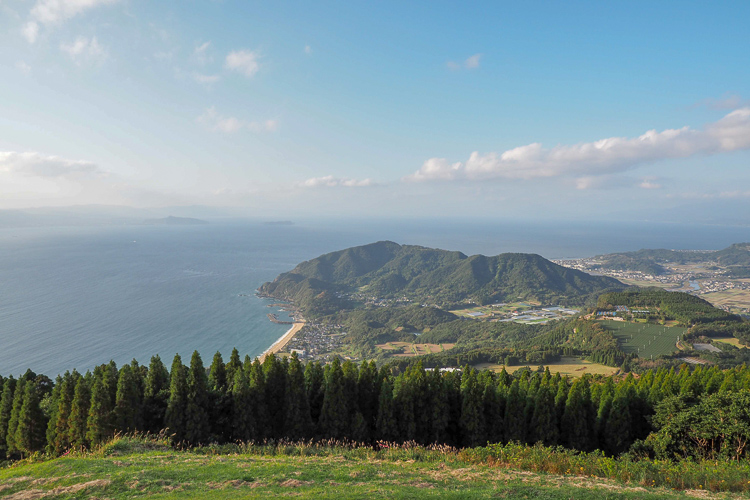 Nejime Biwacha is made from loquat leaves which grow healthily and abundantly in the soil of Kagoshima under the tropical sunlight and breezy atmosphere.
Our one-of-a-kind roasted loquat tea is produced in a patented process.
Enjoy the roasted flavor and mellow taste as it goes down refreshingly and smoothly.
We are glad that many customers describe it as positively addictive.
Our Loquat leaves are produced 100 percent in Kagoshima Prefecture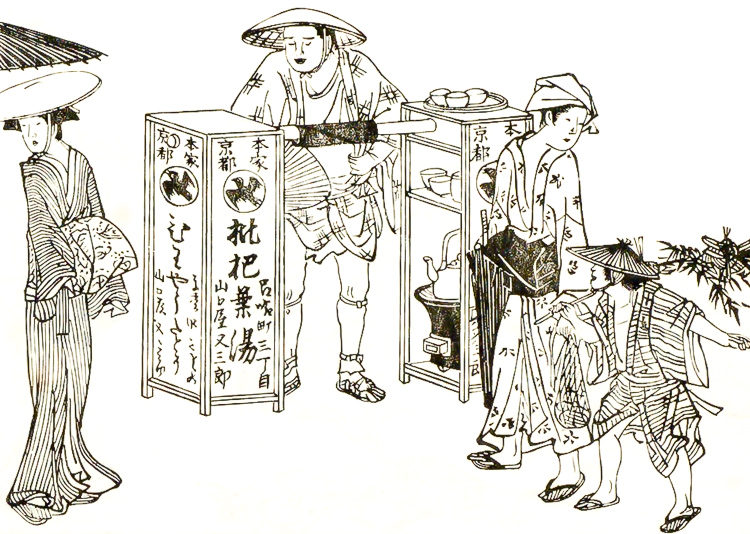 Source: Japanese Customs Illustrated No.11-156, Traffic of Four Seasons, (National Diet Library), authored by Santo Kyoden
Loquat is an evergreen tree belonging to Eriobotrya japonica, Rosaceae, Rosales. Its fruits are edible, and the leaves are a precious herbal medicine.
Loquat originates in south-western China. It was brought to Japan in the 7th century when Buddhism was introduced to the country.
Loquat trees are referred to in old Buddhist scriptures as the 'tree of the king' and its leaves are called 'Muyusen' * because they heal anxiety.
The use of loquat tea began in China in the age of Han dynasty (circ. 1st century B.C.)
*Muyusen, literally "depression-repelling fan", is a mythic leaf believed to cure any apprehension.
Benefits of Nejime Biwacha
Roasted and mellow flavor: The refreshing taste is positively addictive.
Caffein free: Enjoy it at night to relax yourself.
100% natural: No fragrance or coloring is added. The tea bags are unbleached.
Zero calories (when brewed): Drink as much as you like without worrying about calorie intake.
Has obtained a process patent (removal of harshness, solar drying, tourmaline pebble roasting*, floccus removal): Item 6480635.
Joint research with Kagoshima University, National University Corporation, has revealed that the tea contains 3.5 times more polyphenol than unprocessed leaves. The high content of polyphenol is noteworthy because it has a variety of merits.
Totsukawa Farm is conducting research to apply for labelling as a functional food.
We have had words of thanks from our long-time customers, such as, 'I smile more often these days' and 'I wish I had known about this tea earlier'.
The large number of positive customer reactions led us into joint research with Kagoshima University in 2004 to conduct research on the physiological function of Nejime Biwacha. The research results have been presented at scientific conferences.
*Tourmaline, also called Electronic Stone, attracts electrons. The property generates negative ions and far infrared radiation, which together make the end product light and soft.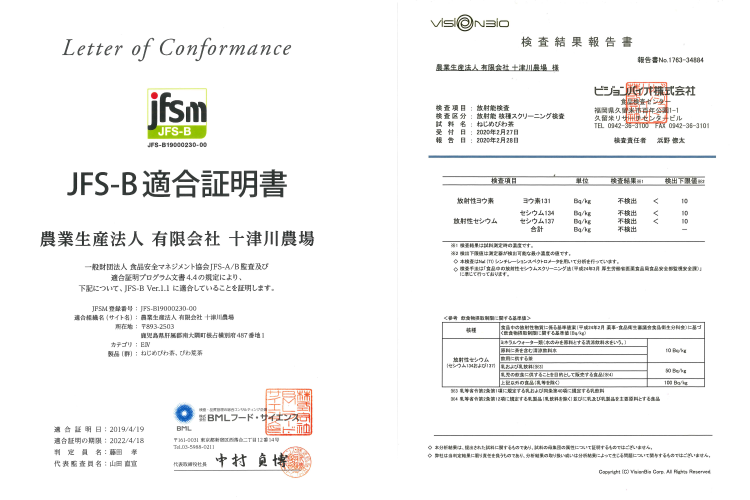 *JFS-B
Our factory is certified with JFS-B, Japanese equivalent of HACCP.
Quality checks are done in the quality control room called the 'clean room'.
Finished products packed in outer packages are checked again by metal detector for contamination.
*Safety inspection
Residue of agricultural chemicals (276 items), radiation (less than 10 Becquerel/Kg required by government) or amygdalin has never been detected in all the quality control checks.
The secret behind the tastiness of Nejime Biwacha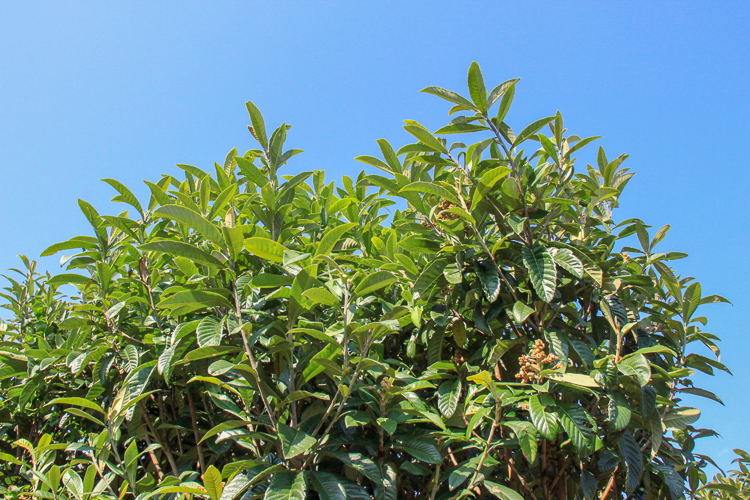 1. Produced solely from loquat leaves grown under the bright tropical sunlight of Kagoshima Prefecture.
Blessed with mountains and oceans, the prefecture has many of the best of nature's benefits, such as bright sunshine and a high-quality soil of volcanic origin.
We harvest only the well-grown leaves that are one year old or older.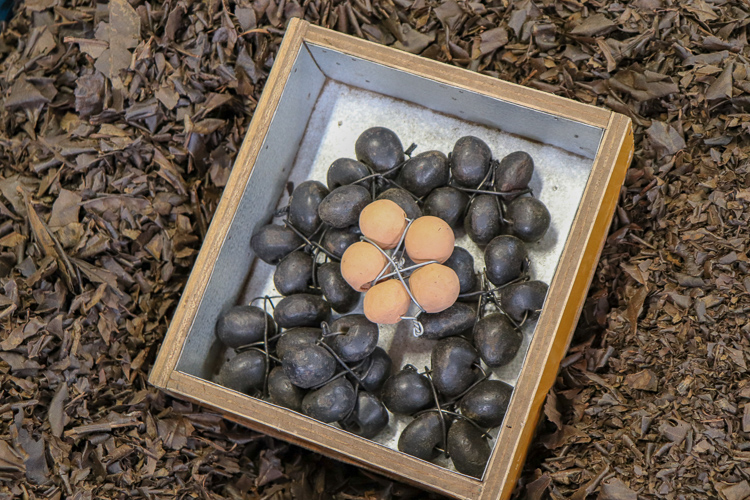 2. The patented process brings out the effective ingredients and unique taste of loquat leaves.
To rid harvested leaves of their harshness, they are soaked in water specially prepared in the water energizer we developed independently using layers of natural mineral pebbles.
They are dried under the sun to bring out a well-rounded taste, roasted at high temperatures and mellowed by tourmaline pebbles. Because floccus is thoroughly removed, the tea goes down refreshingly without leaving a trace of bitterness.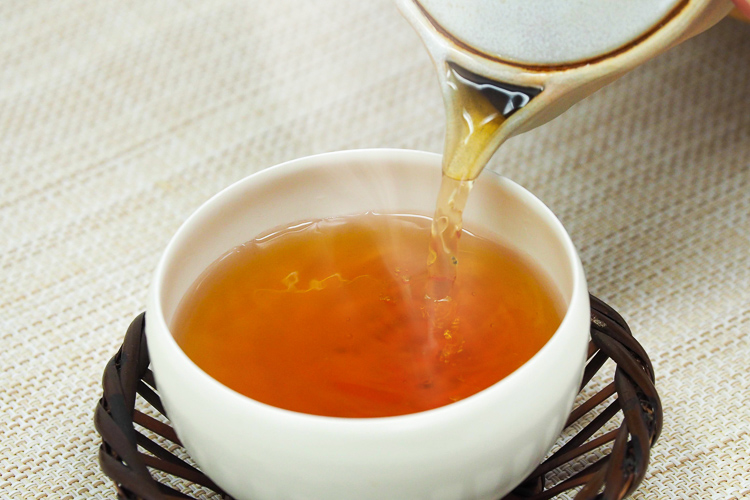 3. A great amount of time, work and care go into the production.
Nejime Biwacha is produced conscientiously in Nejime, a 'slow life' town.
Considerable amounts of time, work and care go into the production.
The fragrance-free, coloring-free tea is packed in unbleached tea bags.
The production process of Nejime Biwacha
Get a glimpse of the production process of Nejime Biwacha.
The whole process takes place at our factory, and the production process is patented.
Procurement and maintenance of loquat leaves
Loquat leaves come from the farms we own or manage and hundreds of contract farmers.
We periodically weed, compost and water the farms we own or manage.
Cleaning and removal of harshness
Dirt is removed thoroughly by the washer we independently developed.
To remove unwelcome harshness and acridity, leaves are soaked in water specially prepared by the water energizer we also independently developed consisting in part of layers of natural mineral pebbles.
Solar drying
Depending on the weather and season, it takes about two to three days to dry the leaves out under the sun, ensuring the natural mellow taste unfolds into the tea leaves.
The next step is machine drying in which floccus is removed thoroughly along with the bitterness.
Tourmaline Pebble Roasting
Leaves are roasted at high temperatures using tourmaline-coated ceramics.
Only the master roaster knows when to stop before the process is overdone to bring out the best of flavor and all useful ingredients.
Tea Packing
Only unbleached tea bags are used. Tea bags are packed in outer packages.
Each and every tea bag is inspected visually to make sure they are in an appropriate condition.
Inspection and Quality Check
Our quality check process occurs in the quality control room called the 'clean room'.
Finished products packed in outer packages are checked again by metal detector for contamination.
How to make a cup of tasty Nejime Biwacha
You can enjoy Nejime Biwacha all year round. It tastes good either hot or iced.
Make tea with freshly boiled water and enjoy the healing and relaxing flavor.
If you boil the tea to extract ingredients
Tea bag/leaves
Put one liter of water and a tea bag (or 2g of tea leaves) in a kettle.
Bring to boil and simmer over low heat for 10 to 15 minutes.
Do not take the tea bag or tea leaves out until cooling down has completed.
This way, a stronger tea can be had.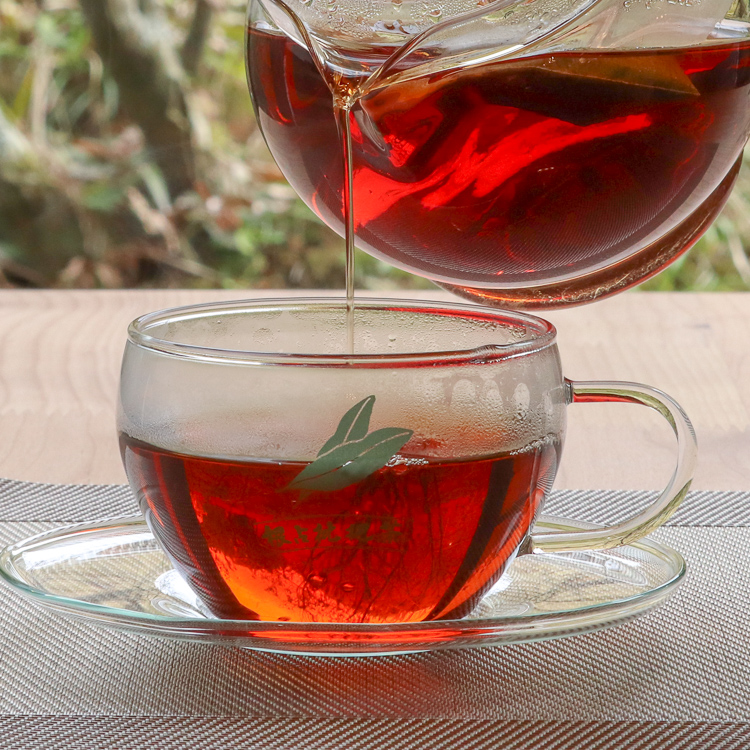 If you use a teapot
Tea bag
Pour 500mL of hot water over a tea bag (2g) in a teapot.
Let stand for about three minutes.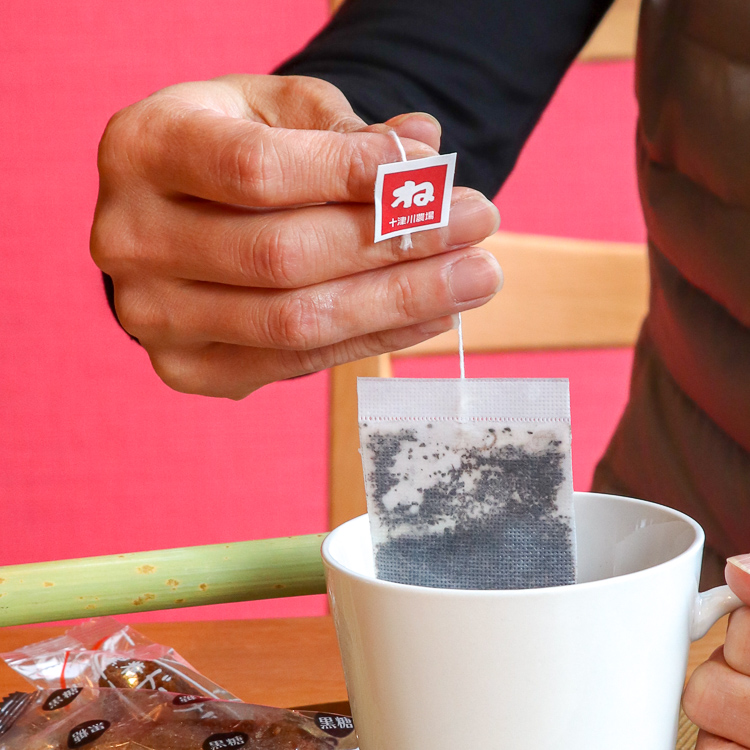 If you make a tea in a mug cup or thermo mug
Tagged tea bag
Put a tea bag in a mug cup or thermo mug and pour in 250mL of boiling water.
For microwave use, put the water and tea bag into the mug and microwave at 600 w for 90 to 120 seconds.
Nejime Biwacha recipes
Nejime Biwacha not only makes a tasty tea but also makes dishes tastier♪
Use Nejime Biwacha instead of water to enhance the flavor of all your favorite dishes.
For example, the taste of meat and fish becomes lighter when cooked with Nejime Biwacha.
Biwa tea hot pot
Use Nejime Biwacha instead of soup stock, and you will enjoy a harshness-free, clean-tasting hot pot!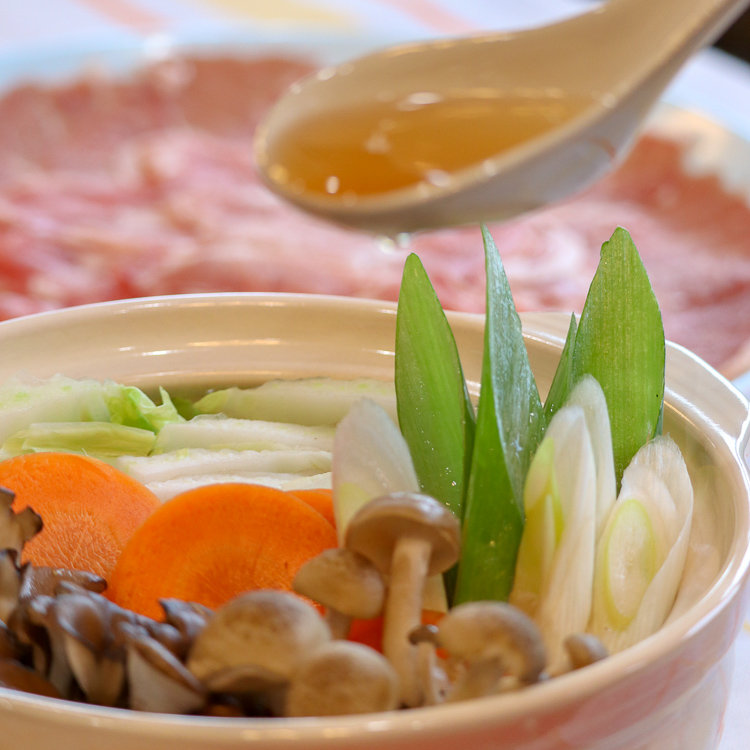 Ingredients (for four people)

Shabu-shabu meat (600 g)
Vegetables of your preference
Brewed Nejime Biwacha (5 cups)
Noodles of your preference

Note

Use brewed Nejime Biwacha instead of traditional soup stock.
Put water and Nejime Biwacha in a Japanese clay pot and bring to a boil.
Remove the tea bag. Cook meat and vegetables lightly in the broth and enjoy with your preferred seasoning.
Biwa tea curry sauce
Create a curry sauce with a light but rich taste even when using rich fatty meat♪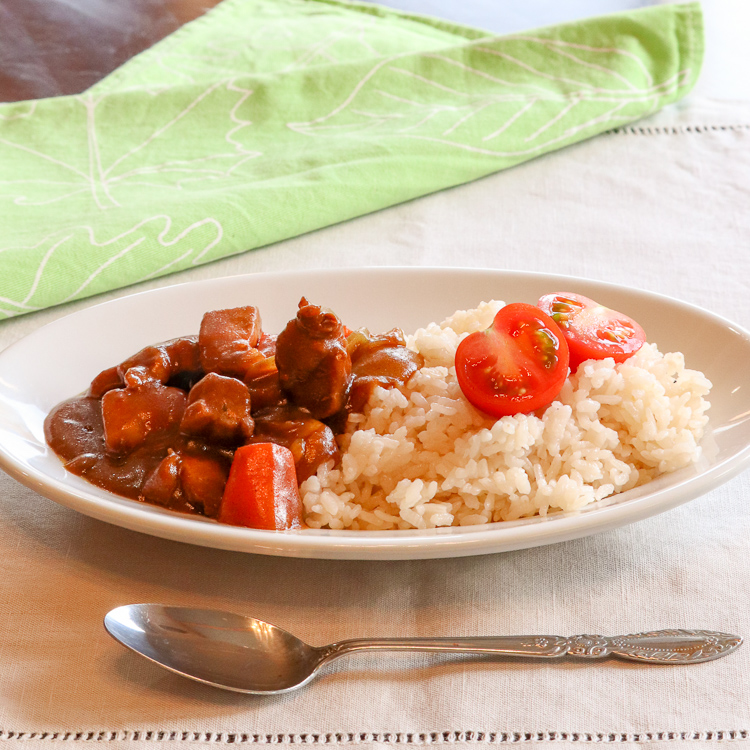 Ingredients (for four people)

Biwa tea rice

Uncooked rice (about 600 g)
Brewed Nejime Biwacha (540-600mL)

Biwa tea curry sauce

Meat block (400g)
Four cups of water (for stewing)
Nejime Biwacha (one tea bag)
Vegetables of your preference
Curry sauce mix (for four dishes)

Note

Use Nejime Biwacha instead of water to cook rice. The roasted flavor is greatly appetizing.
Fry meat and vegetables cut in bite size cubes. Pour in water and Nejime Biwacha and bring to a boil. Simmer over low heat and add a curry sauce mix.